Group Coaching

Group Coaching Programs:
A convenient and affordable way to realize your own growth,  in concert with others, These programs combine the best of both worlds – self-directed learning delivered via a special client portal with coaching tele-calls and a special forum to support group learning.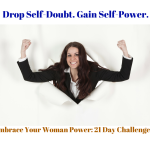 Unleashing  Your Power: 21 Day Challenge: 
Practice building your confidence and have others notice.
Express Yourself more fully at home and at work.
Stand in your power and embrace your boldness so that you can feel more alive.
Included in this program:
Course materials for ten topics (over the course of 21 days)
Just in Time Coaching through a private client portal.
 Three coaching calls
Closed FaceBook group for questions, insights and Wins.

Courage, Risks and Rewards for Professional Women
Need a boost to make that dream a reality? Have a goal but fear the risk you'll need to take in order to make it happen? In this program, you will
explore 5 key areas that will help you find the courage to take new risks and reap great rewards.
 examine the concept of risk and break it down into specific, manageable steps.
 look at risk from different perspectives and explore how the rewards for taking chances far outweigh the costs.
This training will open new doors to exciting opportunities!
Included in this program:
Five  Content Modules
Three  Coaching Calls
Closed Facebook Group for Questions, Insights and Wins
Just in Time Discussion with your coach
Embracing Your Woman Power: The Five Step Process™:
If you're a woman who:
Needs to develop a more powerful leadership presence 
Wants to own and navigate her power more fully in her organization
And is:
Stalled from moving forward by perfectionism
Doubting or second-guessing herself
Then this Program is for You.
Target Audience: Corporate female leaders and business professionals who want to embrace their power more fully so they can play a bigger game.
Topics Covered:
The "isms" that get in the way
Executive Presence: What it Means and How You Can Develop It More Fully
Owning Your Power
The Body, Emotion, and Language of Power
And, much, much more. 
You'll Discover: 
The link between power and presence and why you need both
New definitions of power that can serve you in both your business and personal life
How to overcome the "isms" that can keep you stuck and prevent you from moving forward
Ways to practice accessing your body's wisdom and use it to embody leadership and power so that you exhibit both competence AND confidence.
 In this 7 week Group Coaching Program, here's what's included:
Online access to program materials and Just in Time interaction with your coach through a special client portal
Exercises for practice and reflection
5 One hour group Q&A/Coaching Calls using my free conference bridge line (If you can't be on live, they will be recorded)
A special celebratory call
A week of daily affirmations and Action Planning
Closed Facebook Group to share insights and successes.
And when we come together to learn as a group, the insights are quite profound.
Program Dates: 

October 13, 2016 – November 30, 2016
Enrollment begins 9/17/16 and ends 10/07/16. Take advantage of the Early Bird rate between 9/17 and 9/28/16. 
Click here to learn more and to enroll.
The Leadership Journey™ (coming soon)
"There are two ways of spreading light: to be the candle or the mirror that reflects it."

~Edith Wharton
---
Don't know which program is right for you? Click here to schedule a free discovery session or click here to send me an email.